Home Page
Aji&nbspAwa&nbspBah
Mission&nbspStatement
Vision&nbspStatement
History
How&nbspyou&nbspcan&nbsphelp
School&nbspSupporters
Gallery
Videos
Newsletters
Links
Contact&nbspus
Tony&nbspShephard

WELCOME TO THE SCHOOL'S WEBSITE
---
August 27th 2020
Message from Mrs Yaharr Jallow

On behalf of the Proprietress, Headmistress and staff of Agi Awa Bah Nursery School, our sincere thanks to the following benevolent men and women who during this difficult times (Covid19) donated money just to make sure we the employees of the above named School are able to put food on the table for our families. You all donated for the sake of Allah (SWT). May He reward you all abundantly. We will always remember you in our prayers. Life would have been very difficult for us and our families without your intervention. Thanks a million times God bless you all.
| | | |
| --- | --- | --- |
| Aji Jagne | Mariama Faye | Isatou Jallow |
| Agi Awa Joseph | Ndye Fatou Joof | Dawuda Khan |
| Muhammed Fye | Tina & Victor Smith | Abdoulie Sowe |
| Baye Lowe | Sally Reader | Muhammed Camara |
---
March 2nd 2020
The building of a water tower with a powerful pump to fill it has made a great difference to the pupils in the upstairs classrooms. There are more photos and details of this on the Gallery page.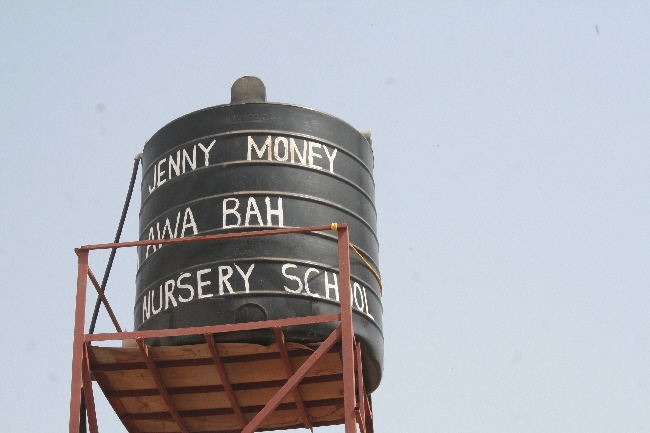 ---
Click here to read the school's tributes to one of the school's great benefactors, Tony Shephard and to see photos of him in the school.
---
SELECT:-
The School's Mission Statement.
The School's Vision Statement.
Some of the school's supporters.
Tony&nbspShephard&nbspTribute